---
Remember that XKCD comic?
---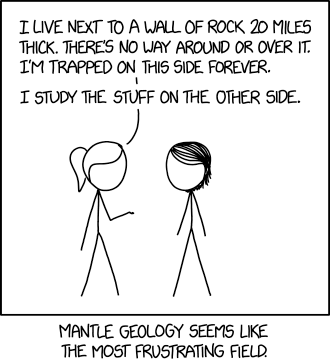 ---
Today's Icelandic Meteorological Office update (below, via Google Translate, with image added) speaks for itself. Every earth scientist in the world probably wants to visit and sample this eruption!
Updated 25.03. at 9.20

The mantle has a layered structure: I'm not sure if we're seeing asthenospere or upper mantle on the Reykjanes Peninsula. (Image:volcan26 via Wikimedia, CC BY-SA 4.0

On the Reykjanes peninsula, wave refraction measurements show that the earth's crust is usually about 15 km thick, and below the earth's crust the mantle takes over. Geophysical measurements can detect signs of magma or magma chambers in the earth's crust, but on the Reykjanes peninsula there are no signs of this, neither magma nor magma chambers. Therefore, magma that arises in eruptions on the Reykjanes peninsula can be expected to come directly from below the mantle.

Chemical analyzes by the University of Iceland Institute of Earth Sciences on the new lava field in Geldingadalur have now confirmed that this is the case, i.e. that the magma that arises is primitive and comes directly from a mantle from a depth of 15-17 km. It is estimated that the magma flow in Geldingadalur is about 5 m 3 / s and the flow has changed little since the eruption began.

…

A disturbance graph from the FAF seismometer, which is east of Fagradalsfjall about 2.5 km from the eruption fissure, shows the strength of the eruption well in the frequency range 2-4 Hz (blue line). According to the unrest, the intensity of the eruption has not diminished at all, but has been steadily increasing in recent days, especially at night. These observations of turbulence compare well with other observations, such as satellite images.

But how long can the eruption last? A direct connection has now been formed from magma at the top of the mantle to the surface in Geldingadalur. First and foremost, it is the amount of magma at the top of the mantle that determines how much material reaches the surface. There are examples of dyngj eruptions on the Reykjanes peninsula that undoubtedly lasted for years and produced a lot of lava, such as Þráinsskjöldur, Sandfellshæð and Heiðin há which are the largest dyngjars, and it can be assumed that a direct connection was formed from magma in the mantle to the surface based on chemical analysis. There are other examples of eruptions where magma chambers in the crust were not known and lasted for a long time, such as the Surtsey eruption from 1963 to 1967.

It is unknown at this time what he will do after leaving the post.
The translation towards the end breaks down a bit — Icelandic is rough on machine translators, apparently. But I'm going to leave the updates post pinned to the top of the blog!
Here are Icelanders, watching a bit of the mantle flow by:
---
Impressive! Stunning view of the molten lava in #Fagradalsfjall. pic.twitter.com/kSvevFrkCg

— Joint Cyclone Center (@JointCyclone) March 24, 2021
https://platform.twitter.com/widgets.js
---
---
Featured image: Jesus Rodriguez Fernandez, CC BY-NC-ND 2.0
---
---